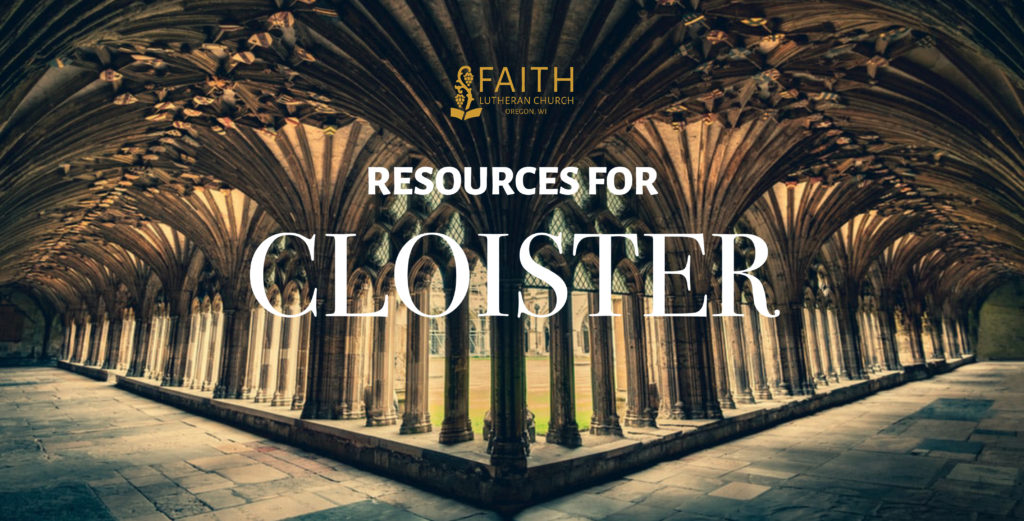 1 Lord, You have been our dwelling place in all generations.
12 So teach us to number our days,
That we may gain a heart of wisdom.

Psalm 90
For thousands of years, many Christians have found peace in "social distancing" and confining themselves at home. And it wasn't negative.
In the Old Testament, God established the Sabbath day, a day of complete rest at the end of each week.
In the Early Church, believers such as Augustine journeyed to seclude themselves – to cloister – and live for a while in what came to be called a monastic life.

At their core, these periods of life were times for prayer, meditation, and giving thanks to God for His mercies, which continue to be new every morning.
Of course, this virus is not good. But this period of your life can be. We often crave peace, but panic when we get it. God has given us a time in which we can refocus and be at rest and peace. Take it from Augustine himself,

"Thou hast formed us for Thyself,
and our hearts are restless till they find rest in Thee."

(Augustine, Confessions (Book 1)
After all, the Lord is our dwelling place.
This can be a sudden shift in our lifestyles. So what to do? Here are some tips and resources which may help in this time:
Tips for staying home from a Nun who has been practicing "Social Distancing" for 29 years – She recommends establishing a structure, planning time for prayer and worship, creating a peaceful rhythm.
FOR WORSHIP

Faith Sermon Podcasts – Updated each Sunday after church with audio of the sermon.

Live Stream Worship at Faith – This will be added soon – save this link for info.

Links to ELS Live Streaming Services – ELS Lutheran Churches around the country who stream their services.
FOR STUDY

Online Study Resources from CPH – These are newly made free due to COVID-19. Of note are "CPH Faith Courses" – I plan to try to organize some online Bible Studies from these as our period of cloistering continues.

ELS Online Bookstore – a perfect time to start reading.

Issues, ETC. – Daily Lutheran radio talk-show and podcast. The program features expert guests, expansive topics, while extolling Christ.
FOR HOME

Online Home Devotion Resources from CPH – Christ's love and message can be overshadowed amidst nervousness, uncertainty, and distress. Draw closer to Him during these times with devotional material to re-center on Christ while at home.

Coloring Pages for Kids – From Catechesis books; these are beautiful illustrations which families can use for a fun and edifying activity.

Daily Video Devotions – Peace Devotions are recorded by ELS pastors across the country.
Bread for Beggars – Daily devotions, some written by Pastor Hendrix, focusing on Sight, Song, and Story. View Pastor Hendrix's Lent Devotions Here
Congregation at Prayer – Links to each week's home devotional, published by our church.
FOR CONNECTING

Members & Friends of Faith Facebook Group – Connect with members of Faith on Facebook.
Pastor's cell: 608-405-9522
More coming soon, including free devotions from the ELS Book of Family Prayer.