Pastor Hendrix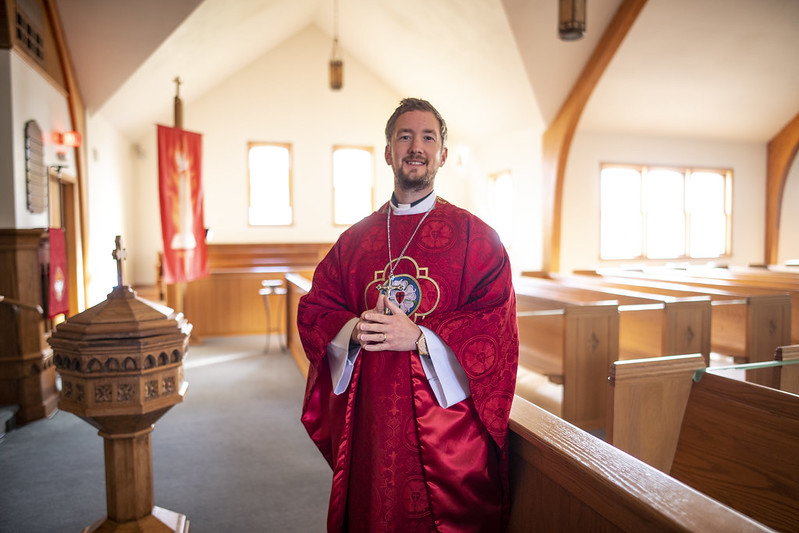 I am Rev. Jeff Hendrix, and I have been privileged to serve at Faith since 2017. Although… I never wanted to be a pastor.
I went to Bethany Lutheran College planning to do video production and graphic design… to produce beautiful things. But while at Bethany, I was immersed in historic Lutheran doctrine and practice. I began recognizing the beauty of God's Word, and the beauty in the design of the Divine Service. Professors at Bethany encouraged me to consider studying for the pastoral office. So I did.
An untimely switch in the biblical languages schedule at Bethany took me to Martin Luther College in New Ulm, MN for Hebrew. But I met my wife Carla there at breakfast one day, so it worked out rather well. She received a triple major from MLC in elementary education, secondary instrumental music, and secondary choral music and was called to be the 3rd grade teacher of Mt. Olive Lutheran School in Mankato soon after.
After graduating from Bethany College, I continued my communication training and earned a Master's Degree in Telecommunications from Ball State University, before attending seminary at Bethany Lutheran Theological Seminary.
Prior to serving as Pastor at Faith, I served Good Shepherd Lutheran Church in Indianola, IA during a vacancy as a vicar, and as as pastor of the dual parish of Calvary and Grace Lutheran Churches in Ulen and Crookston, MN.
Now I am a fan of classical things, things that are beautiful, good, and true…God's Word being the chief thing.
Music Director & Organist: Caroline Rehborg
Caroline grew up in Madison, WI where she served as head organist of Eastside Lutheran Church and also accompanied the chancel choir for many years. She loves playing organ and has played at over 15 ELS and WELS churches during her 40 years of playing.
Caroline earned her Master's Degree in Church Music from Concordia University Wisconsin.
Elders & Council
Church President & Elder: Mike Zagrodnik
Elder: Rick Waldschmidt
Elder & Financial Secretary: Ed Wysocki
Secretary: Peter Behl
Treasurer: Kevin Klahn
Trustee: Todd Klahn
Trustee: Chad Klahn
Trustee: Steve Rehborg