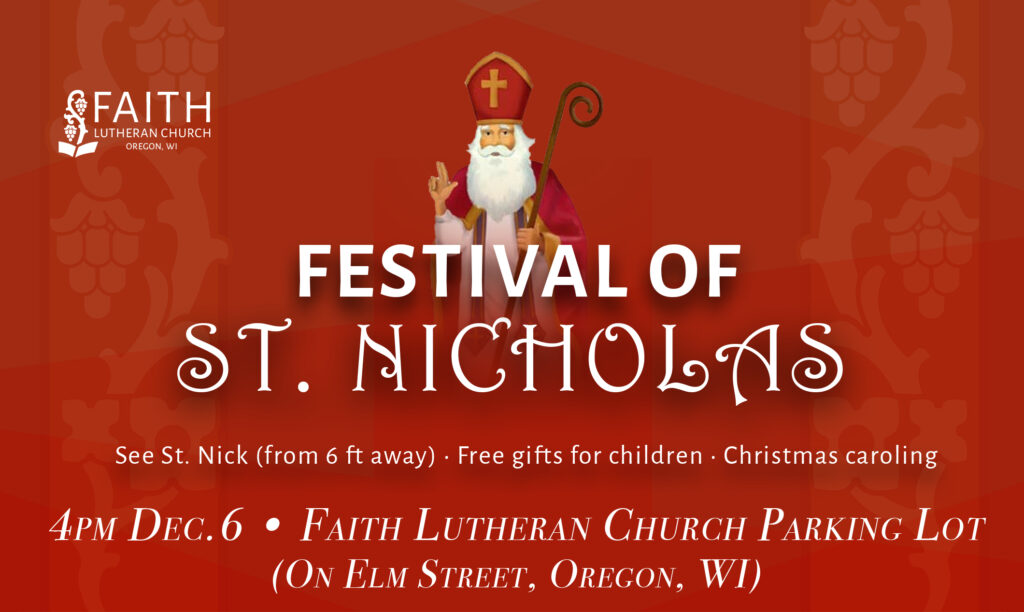 The event will take place at Faith Lutheran Church, in the back of church (parking lot side), outside on December 6 at 4pm.
Our Living Nativity Family Christmas Experience this year will bring us to the real life Christmas of St. Nicholas. This smaller production will be in commemoration of the feast day of St. Nicholas.
Hear the story of the real life St. Nicholas (or, as better known through Dutch, Santa Claus). St. Nicholas cared deeply about children, especially those didn't have much. He gave gifts, echoing the love of God and the greatest gift of all, Jesus.
Come along with us as we travel back in time to meet the good bishop. After hearing from St. Nicholas, join members of Faith Lutheran Church, Oregon, WI for some Christmas caroling.
We will practice physical distancing and remain outdoors the entire time. Every family that attends will receive a free Christmas book (with the option to pick one at various reading levels).
It all takes place at 4pm on Sunday, December 6, the feast day of St. Nicholas.