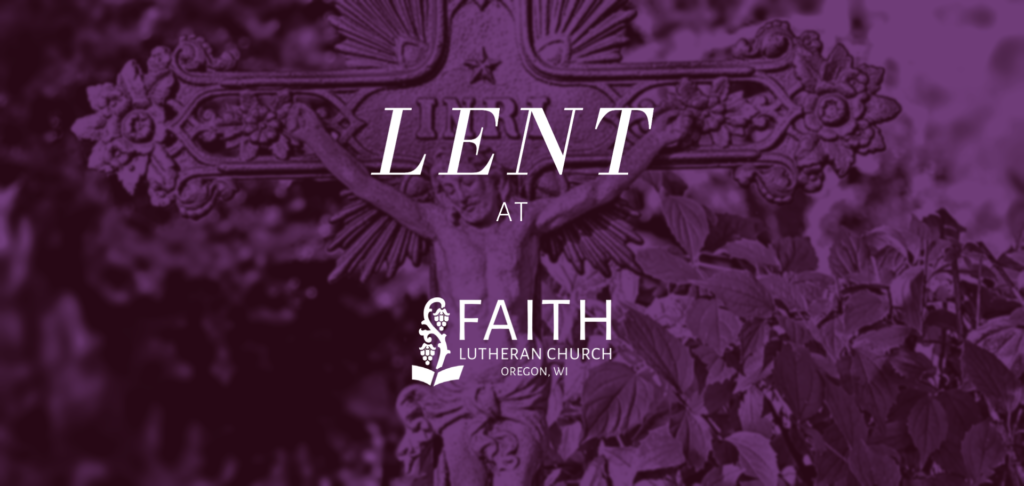 What is Lent?
Lent is a 40-day season of an intentional Christ-centered return to our baptisms, where we daily die with our sins and rise with Christ to live a new life. Between Ash Wednesday and the Paschal Triduum (Maundy Thursday, Good Friday, and the Easter Vigil), the church is again called to live a life of repentance. The practice of Lent has been observed by Christians around the world since the early centuries of the church.
Lent shows how much we need Christ.
Lent is an opportunity to follow Jesus who was led into the wilderness by the Holy Spirit for 40 days of prayer and fasting. This Lent at Faith, we are inviting the Spirit to lead us to God's Word and be increasingly conformed to His image. This is particularly fitting this year, as throughout Scripture, plagues and pandemics were used by God to call His people to repentance and faith. Through baptism, and by returning to our baptisms in confession and absolution, God provides us with renewal, refreshment, and a fresh start.
Lent shows how much we need each other.
We often think of our faith as something personal, and while many of the practices of Lent are things that can't be done except by each person individually, however Christian faith is never practiced in solitude, but always in communion with fellow Christians. Together, by meeting together around the Word of God, we encourage one another and fulfill a purpose of church: to carry each other's burdens and to encourage them with the love of Christ. May we encourage each other this Lent in our individual participation in the death and resurrection of Jesus.
---

As you participate in Lent, please read our guide, and feel free to share it with your friends.
---
Here are all of our opportunities at Faith to participate in Lent:
Ash Wednesday
February 17, 6:30pm Divine Service
In Scripture, ashes serve both as a symbol of mortality and as a sign of mourning and repentance. In the Ash Wednesday service we are reminded of our mortality, we confess our sins, and we experience forgiveness through Christ's death and resurrection. A central practice in the Ash Wednesday service is when those gathered physically embody what is in their hearts when they receive the "imposition of ashes" on our foreheads and hear the words, "Remember that you are dust, and to dust you shall return." Praise be to God that sin and death do not have the final word! We leave the service in confidence and gratitude: Christ has conquered death, and nothing can separate us from the love of God, which is in Christ Jesus, our Lord. Register to attend here.
---
Vespers
Wednesdays at 6:30pm
Each Wednesday in Lent we gather together to be refocused around Christ's passion. As it is customary for Vespers to be a catechetical service, this year we meditate on the 3 articles of the Creed.
---
Pray the Catechism during the 40 days in Lent, using this booklet.
---
Almsgiving (Charity & Acts of Mercy)
Mid-March
Spring Cleaning Drive: We will collect personal health and hygiene products from our community for the local food pantry.
Members who have been blessed financially by the Lord are encouraged to give to our church's Faith In Action fund, which is set up to help families in need in our community.
---
Fasting, or giving something up that is a regular part of life is to remind us how completely we depend on the Lord. It is not dieting, as the focus of dieting often becomes my will-power. Rather, the focus of fasting is the Lord Jesus. The point is that when we give something up, we replace it with Jesus. For example, if a person chooses to not eat a meal, the time normally spent in preparation and eating would be spent reading and meditating on God's Word.
---
Bible Study
New Member Class: Wednesdays at 7:30pm
Women's Bible Study: Every other Tuesday at 7:00pm on Google Meet
Men's Bible Study: 6:30pm, 2nd Tuesday of the month
Young Adult Study: TBA
During Lent, our studies are perfect ways to focus on Jesus.
The new member, which meets on Wednesday after Vespers class goes through the Catechism using the structure of the Sunday Service.
The men's study is on "Christ Have Mercy: Putting Your Faith in Action."
The women's study is "Enough for Now: Unpacking God's Sufficiency."
The young adult study is "On the Road with St. Augustine."
Books are available for purchase if you would like to own them, otherwise you may borrow from church, but please let Pastor know so we can have enough books.
---
Paschal Triduum
Maundy Thursday: April 1 6:30pm
Good Friday: April 2 6:30pm
Easter Vigil: April 3 7:27pm
Paschal = The Biblical word for "Easter"
Triduum = "The Three Days."
After 40 Days of Lent, the Christian Year has now reached its climax. We have come to the celebration of the suffering, death, and resurrection of our Lord Jesus Christ. This is the celebration for which we have been preparing throughout Lent. Now we see what our Savior came to do. We see Him suffer and die for our sins and for the sins of the world. And we see Him rise triumphantly on Easter morning to assure us that our salvation is complete, the victory is won.
All three services are dramatic each in their own way and intimately connected to each other. The focus as always, is Christ.
---